Join me on Monday, January 21st from 1-2 PT on the Born To Talk Radio Show. Keith Wilkins, Operations Manager, and Melissa Dollard, Wildlife Rehabilitator from Seaside Seabird Sanctuary will be my special guests.
I had the pleasure of meeting Keith and Melissa this past December when I visited the Seaside Seabird Sanctuary located in Indian Shores, Florida, along the Gulf Coast.
The Seaside Seabird Sanctuary is a 501(c)(3) non-profit organization dedicated to the rescue, treatment, and rehabilitation of sick, injured, and orphaned wild birds, with the goal of releasing them back into the wild. To carry out their important mission, the sanctuary is staffed by experienced professionals and dedicated volunteers.
Located within the Sanctuary is the Dr. Marie L. Farr Avian Hospital. Here, a team of dedicated and experienced staff and volunteer members diagnose, treat, and rehabilitate anywhere between 2,500 – 3,000 sick, injured, and orphaned wild birds which are admitted into the Sanctuary's hospital each year. Similar to a human hospital, it is equipped with emergency facilities, a surgical center, and indoor and outdoor rehabilitation areas. Unfortunately, approximately 90% of all injuries are directly or indirectly attributable to humans. Over 80% of the birds that survive the first 24 hours are successfully rehabilitated and released back into the wild.
Here a few of the photos I took while I was there.
Juvenile, Black-Crowned Night Heron.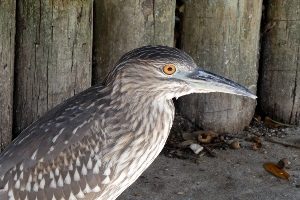 I had never seen American White Pelicans.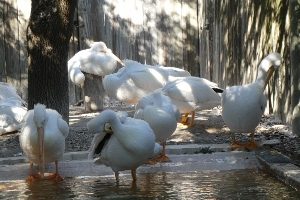 Great Horned Owl.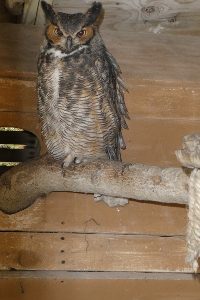 Although the goal is always to release the birds after they have recuperated from an illness or injury, those who have sustained injuries that prevent them from surviving in the wild are kept permanently at the Sanctuary or transported to another reputable facility to live out its life. The Sanctuary currently houses over 100 permanently disabled birds. Some of the permanent residents include Eastern Brown Pelicans, Cormorants, Gulls, Oyster Catchers, American White Pelicans, Hawks, Vultures, Blue Jays, Sandhill Cranes, Great Blue Herons, Owls, and much more. Visitors to the Sanctuary can walk around the grounds and view all the permanently disabled birds on display. In addition to the Sanctuary's display birds, the grounds are home to a countless number of wild birds who freely roam the Sanctuary, and nest in the trees.
One of the main goals of the Seaside Seabird Sanctuary is to help educate the community about wild birds, and the dangers that they face. I'm excited to share their wonderful success stories with you.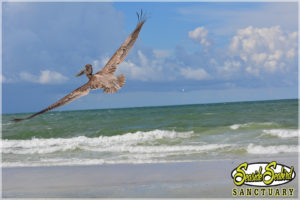 Here's how you can reach me Marsha@borntotalkradioshow.com