If you love music as much as I do, you won't want to miss this show with the Founder of JOJOKID Music, award winning and Grammy considered Songwriter, Producer, and Publisher Paul Drago and Recording Artist and Akademia Music Award winner for Best Song, Pop Rock, Louisa Erlich.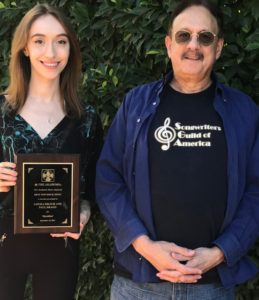 You will be able to listen and watch our show, Monday February 12th beginning at 1:00PT on LATalklive and Ustream.
Paul and Louisa will be bringing their musical talents and collaborations together for this entertaining hour. We will be talking about Paul's longtime career in the music industry and Louisa's award-winning song, Mystified, composed and produced by Paul.
Paul has worked with musicians including, the Drifters, War, Santana, just to name a few.  Louisa has a background in musical theater, screenwriting and acting. They are a dynamic duo. How did they meet?
There is a process in the music industry, from writing the music and lyrics to finding the perfect person to bring it to life through their voice.  Paul and Louisa have teamed up to not only to write, produce and sing but to be part of a competition that resulted in winning the 2017 The Akademia Music Award.   What is The Akademia all about?  You will have an opportunity to hear about that along with their stories about music and why it's important to them.
As a treat, Louisa will sing her song Mystified, for your listening and viewing pleasure! I'm looking forward to hearing what's next for them!  A special thanks to Neng Frieda for making this happen!
Each week I bring in a variety of people all with their stories and passions to share!
Tell your friends to check us out.  You can follow me on my Born To Talk Radio Show Facebook page and Twitter @Born2Talk.
Born To Talk
Conversations + Connections = Community
What's Your Story?