Joining me on the Born To Talk Radio Show Podcast on March 14th, 1-2 PT is Michael Schoettle.
Michael.
Michael grew up in the Philadelphia area and spent summers on the New Jersey Shore. Little did he know at the time, how that would play into his future love of sailing and racing competitively at an early age.  He earned his  B.A. from Yale University and an MBA from Harvard University. Michael was a U.S. Naval Officer for three years. He is married with two grown sons.
For more than two decades, Michael Schoettle worked with and placed executives in client organizations as a Partner of Heidrick & Struggles, a leading global executive search firm. He also worked in sales and marketing for five different business units of Xerox Corporation. Then Michael created and co-managed a course and career coaching program for Executive MBAs at Loyola Marymount University in Los Angeles. In addition, he volunteered for five years at the non-profit Chrysalis, teaching "Job Prep" to felons recently out of prison.
Sailing.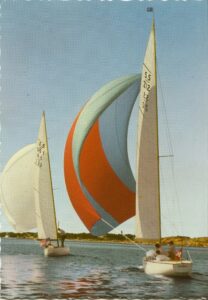 Michael is a sailor and an Olympic Champion. He competed as an alternate at the 1952 Summer Olympics in Helsinki. They earned a gold medal in the 5.5 metre class on the boat Complex II.
Maybe you never thought of this.  Did you know what it means to be a sailor?
The profession of the sailor is old, and the term sailor has its original roots in a time when sailing ships were the main mode of transport at sea. But it now refers to the personnel of all watercraft regardless of the mode of transport.  It encompasses people who operate ships professionally, as a sport, or recreationally. Be it for a military navy or civilian merchant navy.  In the navy, there may be further distinctions: sailor may refer to any member of the navy even if they are based on land.
Michael stayed involved in Olympic Sailing over the next 40 years, including leading the United States Olympic Sailing Team in Barcelona that won medals in nine out of ten events.
Author.
Michael's book, Career Change Guide uses his experience and expertise to show how people get jobs and the importance of being both qualified for the job and fitting well with the values and culture of the people where they work.
Are you looking for a new job? If so, view this moment as an opportunity, an adventure. This book will guide you through a process in which you will first develop an in-depth understanding of your values, what you do well, and what you want to do. Then it will help you with planning your search, preparing your resume, networking, interviewing, getting an offer, and starting at the new organization. The chapters contain ideas for accomplishing each step, stories of people who have taken the step, and recommended actions to accomplish the step.
In closing.
If you find yourself looking to make a career change, this is the podcast for you! Maybe you thought it wasn't possible. Michael will be sharing how to make this a possibility with careful planning and preparation.
Are you ready to take a new path?  It could make all the difference!
Tune in to hear how.
***********************
Conversations + Connections = Community
Making the world a better place.  One Story at a time.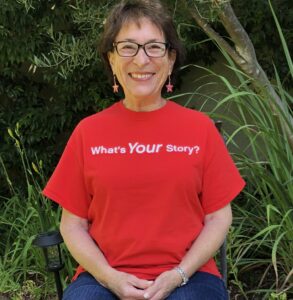 What's Your Story? I want to share it!
 Marsha@borntotalkradioshow.com
Facebook    Twitter  Instagram  LinkedIn