The Born To Talk Radio Show Podcast will be featuring Author and Entrepreneur Monica Main. Tune in on Monday, December 9th from 1-2 PT to hear the live broadcast.
Monica Main.
To begin with, Monica Main is a serial entrepreneur. She started her first steps on her lifelong entrepreneurial path more than 20 years ago and hasn't looked back since. Not only has she been a successful real estate investor but she's also started several multi-million-dollar direct marketing, publishing, and distribution companies. Together with all her experiences, Monica's secret to success can be summed up in one simple sentence that can apply to anyone's success: "Narrow down what you're passionate about that can make money, create a doable step-by-step plan, and be tenacious (but also flexible) while you continue making steady progress on your chosen success path."
Her latest book released on November 5, 2019, is The Lost Secret. Unlocking the Hidden Chapters of Napoleon Hill's Think and Grow Rich. "You have magic at your fingertips to manifest anything you've ever wanted in a way that has never been revealed to you…until now."
Who was Napoleon Hill?

Oliver Napoleon Hill (born October 26, 1883 – November 8, 1970) was an American self-help author. He is known best for his book Think and Grow Rich (1937) which is among the 10 best selling self-help books of all time.  Hill's works insisted that fervid expectations are essential to improving one's life. Most of his books were promoted as expounding principles to achieve "success." There is also controversy surrounding his book. As a result…
Enter…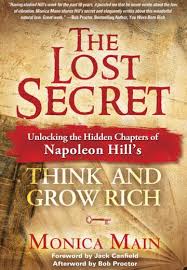 The Lost Secret.
When and how did Monica learn that there were two missing chapters of the originally published book Think and Grow Rich?
Why does she think chapters 16 and 17 were not included?
Who was involved in making those decisions?
What influence did this have on her life?
Where did that path lead her to write this book?
Are You Curious?
Join us for this fascinating story, it may just be a game-changer for you!