Welcome to another episode of the Born To Talk Radio Show Podcast.  My guest on Monday, December 11th, from 1-2 PT is Author, Natalie Siston.
Meet Natalie!
Getting to know Natalie, she wrote to me to say, "You were Born To Talk and I was Born to Write!"
Natalie is from Republic, Ohio, with a population of 600.  She now resides in Dublin, Ohio with her husband, Rob, and two young daughters.  In 2016 she founded Small Town Leadership in order to share the lessons she learned from small-town living to help leaders and organizations create big success in the world. Natalie has an extensive background including an MBA from The Ohio State University with an MBA in Marketing and Talent Management and a B.A. in Psychology and Political Science. She is also a Certified Professional Coach and Unconscious Bias Trainer.
Our Show's Focus.
We will be talking about what it was like growing up in a small town. This makes me think of the song, "Where everybody knows your name" from Cheers. What was the transition like when she moved to the "big city" life she lives in today? Why did she leave a corporate job and how is she using that experience to help others? Her motto:  "Making our Big world feel like a smaller place."
Author.
"let her out   Reclaim Who You Have Always Been"
If you look closely at her book cover, you will notice that she is featured with puzzle pieces behind her.
Natalie states in her Preface, "I look into Her eyes to reminds myself that I am powerful; I am worthy; I am living a meaningful life."
What I find so fascinating about her book is the style in which it is written. Not only does she tell Her story, but she invites the readers to write their own story of "your Her."
I can't think of a better time than now, to reconnect to our "Her."  I think we have the possibilities of memories and discoveries that we may have forgotten about.
Maybe you never considered writing. Maybe that empty journal by your bed is just waiting for your thoughts. Natalie will be sharing her "why" and the importance of reclaiming who you have always been.
Join us in the story of Natalie!
---
Making the world a better place.  One Story at a time.

What's Your Story?  I want to tell it.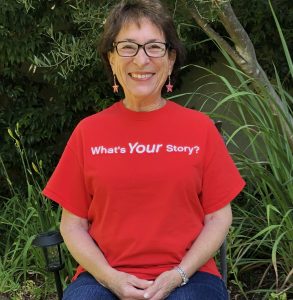 Marsha@borntotalkradioshow.com