Podcast: Play in new window | Download
As I celebrate my 200th Born To Talk Radio Show, I am thrilled to share this milestone with my outstanding guest, Sarah Chapman, Founder and Executive Director of Build A Better Benin.
Why do I love what I do?
The reason I continue to host my weekly show is exemplified in today's episode. Sarah is passionate and she shares that passion with others. When I first started broadcasting, my tagline was Conversations + Connections = Community. As I continued I realized that those 3 C's morphed into What's Your Story?
Here's Sarah's Story.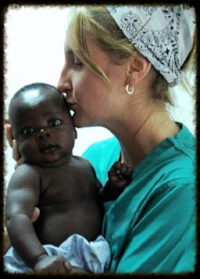 As a Registered Nurse, Sarah volunteered to go on a two-week humanitarian medical mission to Benin, West Africa. She describes her feelings as her feet touched the tarmac eight years ago for the first time on the continent of Africa. She knew in an instant that she was meant to be there.
After that two-week experience, Sarah made a leap of faith and left her corporate job and moved to Benin. As a result, she Founded Build A Better Benin as a non-profit 501.c3 in 2012. She explains what makes her non-profit different from other non-profits.
To give you some perspective, Benin is about the size of Tennessee with a population of approx 6.7 million residents. Benin's population is approx. 11.8 million. Many children are orphaned and in need of healthcare and education.
Wait until you hear about the great projects that Build A Better Benin is doing. As a result of her efforts, she met Constantin and Mama Miracle. They have become a family with the mission of helping children, one child at a time. Constantin, Mama Miracle, and Sarah each have a "Heart of Passion." They provide a universal experience of being positive while encouraging happy empowerment moments to enrich the children's lives. Their goal is for the children to be loved, nurtured and encouraged to have fun.
Vanessa's smile says it all!
Sarah shares wonderful stories. How does voodoo play a part in their culture? As an example, hear what it was like for the children to take a cultural excursion to the beach for the first time.
Always true to their mission.
"The mission of Build A Better Benin is to deliver healthcare and education to the people of Benin, West Africa, by establishing relationships, educational programs, safe housing, sustainable projects, and smart partnerships."
In conclusion, where to learn more.
Above all, I encourage you to learn more about Build A Better Benin. There are a variety of ways:
Their website. Their Instagram. Their YouTube channel.
---
What's Your Story?Conversations + Connections = Community
Do You have a Story to share? Contact me. Marsha@borntotalkradioshow.com