On Monday, June 25th, beginning at 1:00 PT, it's time for another episode of the
I'm excited to have my friend Shereen Rayan, aka Shereen Lavi, joining me again as a guest on my show.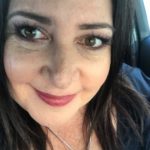 Shereen is a California native who grew as the oldest of three daughters to a dad who was huge sports fan of almost all sports. She quickly learned that to get her father's attention she should ask about sports. Her dad took her to a UCLA Bruins Basketball game where she watched a red-headed Bill Walton play.
Skip forward to last fall when she attended PAC-12 Basketball Media Day and relayed the story to Bill Walton. Needless to say, Shereen is living her dream as a sports broadcaster.
Shereen is the site expert and contributor for Fansided's Arizona Wildcats site Zona Zealots, a contributor for The Lake Show Life and she is the host of her own show on YouTube "In The Front Row" where she interviews high school phenoms, NCAA and Professional Athletes and coaches.
From Ballislife and Pangos All American Events to the Drew League to The South Bay Lakers and AC Clippers, NBA and the NFL, Shereen lets the athletes tell you more about what makes them so successful.
Shereen and I are both sports fans, but she takes it to another level. We'll be talking about her experiences on and off the courts and fields and also our mutual experiences as radio talk show hosts.
I'm looking forward to having Shereen share her stories with you.
Born To Talk
Conversations + Connections = Community
&
Twitter @Born2TalkRadio
What's Your Story?
Do you have a Story to share?