Podcast: Play in new window | Download
Special thanks to my guest and neighbor, Teri Roseman for an outstanding Born To Talk Radio Show Podcast!
I was busy writing notes as we spoke because I found her information inspiring and informative. I encourage you to listen and have a pen and paper available to take your own notes about what is important to you. You'll hear about why Teri left the corporate world and made Yoga an integral part of our life.
What is Yoga?
I've come to understand that everyone may have their own interpretation. Here is what Teri had to say. "It's about balance of all areas of our body." She said that "Yoga is much like an onion with 5 layers that makes up the whole person."
BALANCE:
External… Physical Body
Energy Body…Breathing
Emotional…Mental State
Intellectual…Intuitive State
Spiritual State…Highest Knowing State
Highlights and Takeaways.
One of the highlights and takeaways I received was the importance she realized when she decided "to live from the inside out rather from the outside in." She recommends, "small subtle changes over time add up to be very significant. Embrace the changes to become the new you." And, "Listening without knowing."
When I asked Teri what her students can expect in her classes, just one of the things she said: "was to understand the relationship we have with ourselves, without judging." There were so many pearls of wisdom that Teri talked about and that are relatable to all of us regardless of our lifestyles. "Self-care is healthcare."
Now What?
What do you know about essential oils? She talks about that too.
You might not live in our community, but that doesn't stop Teri from being a part of your life. Thanks to the beauty of technology, Teri can connect to teams and individuals in a virtual practice. You can contact her via her LiveYogaWellness website for more information.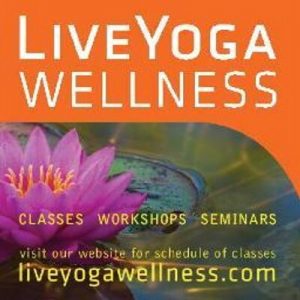 I thoroughly enjoyed sharing Teri's stories with you. I hope she has inspired you to explore your own Self-Care!
What's Your Story?
Conversations + Connections =Community
Do You have a Story to share? Contact me. Marsha@borntotalkradioshow.com