Meet my guest Teri Roseman, the Executive Director and Founder of LiveYogaWellness. She will be joining me on Monday, April 8th from 1-2PT on my Born To Talk Radio Show Podcast.

What is Yoga and Yoga Therapy?
Teri will be sharing her expertise in this field. She is a Certified Yoga Teacher and Yoga Therapist.
Teri's approach is rooted in a deep belief in the healing power of Yoga and meditation. She provides a truly profound Yoga experience that goes beyond Yoga as a form of exercise and instead integrates physical, energetic, emotional, intellectual, and spiritual elements in her teachings to provide students a holistic experience and healing atmosphere. Because of her in-depth knowledge and extensive Yoga Therapy training, her classes and Yoga Therapy sessions are tailored to each individual's needs.
How do you relax your mind and body?
Here are a few truths she has learned along the way. "We overestimate what we can do in a year, and underestimate what we can do in five. "It takes a village". Unlearning is a big part of learning. Allow your heart and breath to guide you. When we listen and nurture our own nature, love and healing happens. Breathe in, breathe out; you are loved, cared for and not alone."
Teri's Goal.
"It is our goal to promote and enable self-health and healing through the mindful practice of yoga, meditation, and other related classes and workshops."
With all the stressors in our lives, perhaps this might just be the answer to living more peacefully.
Take in that deep breath and stretch!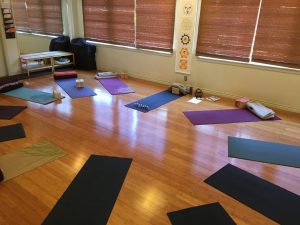 Does this mat have your name on it???
Teri will be sharing her Yoga world with all of us. You won't want to miss her stories.
---
What's Your Story?
Conversations + Connections = Community
Do You have a Story to share? Contact me. Marsha@borntotalkradioshow.com