Podcast: Play in new window | Download
Subscribe: RSS
Thank you Vera Oyé, for joining me on the Born To Talk Radio Show Podcast.   To begin with, Vera Oyé Yaa-Anna, affectionately known as Auntie Oyé, is a Liberian-born acclaimed master storyteller. She transports her audience to West Africa through interactive storytelling. She is the Founder/Executive Director of Oyé Palaver Hut, a nearly 30-year -old-established cultural arts nonprofit organization located in Washington, DC. They integrate storytelling performances with the culinary arts to focus on physical and emotional wellness.
Oyé Palaver Hut offers after-school programs, along with summer camp cultural arts education workshops for ages 5 to 16. Oftentimes, their parents also join in on the fun. Her unique programming has been designed to nurture joy, and create excitement.  These programs can be a catalyst for creative, physical, social-emotional, and intellectual development.  As you listen to Vera's stories, you will feel her joy in sharing her African culture with the youth in the Washington, DC area. Not only that, but she builds confidence with each young person she works with because she meets them where they are.  Regularly, she uses laughter as a way of calming each of her students.  Subsequently, just another tool in her tool kit, making a difference.
In addition to her nonprofit, Vera tours nationally and internationally presenting her dynamic programs that include high-energy African dance and the traditional djembe drums. This energetic cultural educator's performances are designed to celebrate diversity. She is a four-time DC Commission on the Arts & Humanities Fellowship Program recipient.

What does their name mean?
The origin of their name is based on enduring traditional African values they cherish and uphold. They believe in building bridges between cultures and races because mutual respect and understanding enrich our human experience. By doing this, they use common and shared experiences to create an inviting space for their audiences, similar to the nurturing atmosphere of an African village.
In traditional African societies, the palaver hut is the vibrant cultural hub of the community. The palaver hut is an open-air structure.  It is round in shape where visitors are greeted and welcomed. This is where social gatherings such as feasts, community dialogue, youth education, and conflict resolution occur.  As she described, they're very similar to our civic locations. They are built with organic materials in a circular style to symbolize the inclusion, equality, and collective participation of everyone within the circle.   
Mission:
To demonstrate the enlightening, therapeutic, and transformational power of the arts to enhance physical and emotional wellness, and inspire hope, imagination, agency, and opportunity.
Vision:
It is a city where children from challenged DC neighborhoods can develop into healthy, confident, creative, and constructive adults through African cultural arts.
In Closing:
Fortunately, as young people continue to climb out of a pandemic and quarantine period that has exacerbated trauma, Vera has increased her focus on conflict resolution and self-expression.  This West African tradition compels individuals to discuss their problems and come to a mutually beneficial solution.
In the summer of 2021, Auntie Oyé began a new program, "Jazz Appreciation for Elementary School Students." She partnered with the Capitol Hill Jazz Foundation on Capitol Hill. She mentioned how these young children remembered these great performers. An example, is Charlie Parker, Duke Ellington, Louis Armstrong, and others.  Why? Because of the stories she tells, the music they listen to, and the coloring booklets they enjoy.  This summer there are more exciting opportunities when her kids will be performing at the Dance Institue of Washington. Check out their special events page in the coming weeks for that update!
One last thing I would like to mention.  They would gladly accept donations for their 501c non-profit organization.  Thank you for all you do in touching the lives of these families. Your spirit is an inspiration that will continue to enhance everyone that comes along your path, as they write and live their own stories!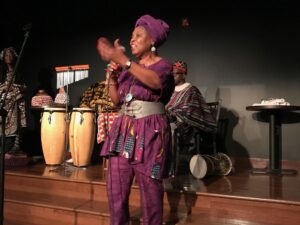 "You have to remember that children are thinkers.
We have to give them the tools to make their environment safe for learning." 
Vera Oyé Yaa-Anna
***********************
Conversations + Connections = Community
Making the world a better place.  One Story at a time.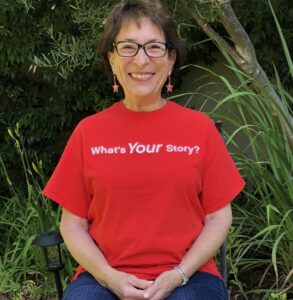 What's Your Story? I want to share it!
 Marsha@borntotalkradioshow.com
Facebook    Twitter  Instagram  LinkedIn