Podcast: Play in new window | Download
Subscribe: RSS
Thank you Walter Wolf for being a guest on my Born To Talk Radio Show Podcast. From a Hollywood producer to an interventionist, Walter is the founder of The Right Rehab and author of "The Right Rehab"
In the beginning.
Walter Wolf is the pen name for a 30-year veteran of the entertainment industry producing studio & independent films and television on location throughout the U.S. and worldwide.  As Walter unfolds his story, he talks about a phone call in the middle of the night that changed his life.  What would you do if you found out your loved one was suffering from addiction or mental illness?
Fortunately, Walter knew who to call to get the needed help.  That helped bring to light the importance of knowing what to do next. Enter The Right Rehab.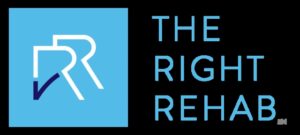 Walter created The Right Rehab to guide families and individuals through the confusing world of addiction and mental disorder treatment, insurance, and how to pay for it without falling prey to the grifters and imposters who will do anything to get your hard-earned money.
Where to start.
The Right Fit. 
To get the right treatment, you have to know what needs to be treated.  Walter matches the right individual with the right treatment facility and long-term treatment plan. The assessments fall into these 4 likely categories.  Is it a Substance Use Disorder (SUD) or a Mental Disorder?  Or is it a Dual Diagnosis?   Primary SUD and Secondary Mental Disorder?  Or lastly, a Primary Mental Disorder and a Secondary SUD?   The diagnosis is the first step determined by a physician (psychiatrist primarily), psychologist or a licensed therapist, or counselor.
Treatment.
No one treatment facility nor one single treatment is the "right one" for every individual and disorder. Just as there is no set timeline when everyone achieves long-term recovery.  There is no one plan that is going to fit everyone. Treatment has to be tailored to address each person's drug-use patterns and drug-related medical, mental and social problems.
Intervention.
It's about leverage. How do you get this individual into treatment?  The family has to be proactive.  It doesn't happen overnight.  Could take years. But as Walter will tell you, it's well worth the effort.
Walter's Takeaways.
"If it's one lesson my experience with the carnage of addiction and mental illness has taught me: there has to be one, trusted, independent source that explains all the treatment options available when you are at your most vulnerable time."
"If there were ever a silver bullet to end this addiction crisis, it's treatment."
"We have to think of treatment as an investment, not a hand-out."
"No matter who you are, whether you live on Park Ave or Skid row, there is a treatment plan for you."  Walter is doing all he can to show that.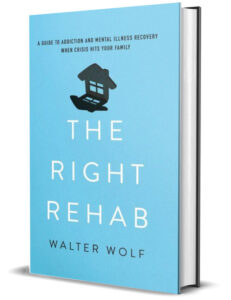 If you have a loved one battling addiction, I recommend listening to our Podcast. Check out The Right Rehab Website for treatment options, Walter is just a phone call away.  Also purchase his book, The Right Rehab.  Just as someone entered Walter's life precisely when he needed help, this may provide you with what you can use to navigate the addiction issues in your family. He writes from experience and wrote what he wished was in place when he began this journey.
Thank you, Walter, for a great way to start the new year.
Conversations + Connections = Community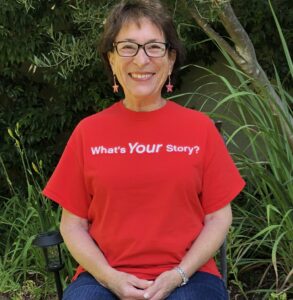 What's Your Story?  I want to share it.
Marsha@borntotalkradioshow.com
Facebook    Twitter  Instagram  LinkedIn