Podcast: Play in new window | Download
Subscribe: RSS
Thank you, Saundra Bryant, for being my guest on the Born To Talk Radio Show.
Saundra.
I'm certain, Saundra could have never imagined when she was 2 years old and went to the daycare at All Peoples Community Center that one day, she would be their Executive Director.  For the past 40 years, Saundra has expertly led the organization's extraordinary accomplishments.   Saundra is retiring in September. Her commitment to her community is demonstrated by her lifelong service to others.
Her community service includes:
Member of the Board of Directors of the Asian-American Drug Abuse Program of Los Angeles
Serving on several panels for orientation of police officers serving LAPD's specialized units, including the SWAT division.
In 1987, Saundra became the first female member of the Los Angeles Host Lions Club, chartered in 1914.
In 1992 Saundra was installed as its first female President.

All Peoples Community Center.
All Peoples Center started well before the Civil Rights Movement of the 1950s-60s, theirs was a revolutionary concept. As their 2008 Strategic Plan says, "At a time when de facto and de jure segregation were still an everyday reality in Los Angeles, the establishment of All Peoples, a multi-ethnic and multi-racial community center, was not just path-breaking, it was revolutionary."
Over 81 years, they have gone through World War II, major earthquakes, the Watts Riot, and the 1992 Civil unrest.
Their neighborhood has changed from Japanese-American to African-American, to Latinx. But they continue to serve people of all ages and races. Even through COVID-19, their doors remained open, providing hunger relief for families and older adults, emergency rental relief, and preventing learning loss for school-age youth.
Saundra's Takeaways.
"Pay It Forward"  This has been my polar star, and this is what I leave for the Center.  Our mission is to empower individuals in our community to realize their dreams for themselves and their families.  We are building community through formal and informal educational opportunities, fostering leadership by focusing on the strengths and assets of our youth and families.
In partnership, we are working to change the narrative and break the cycle of generational poverty.  For 81 years, All Peoples has served the community, and I want my legacy to represent the Center's ability to continue our response to community needs in partnership.  40% of our staff are former summer youth workers, interns, or participants.  The Saundra Bryant Legacy Fund represents our continued commitment to grow, learn, and serve the community."
In Closing.
There are many ways to get involved with All Peoples Community  Center. Perhaps you would like to make a donation.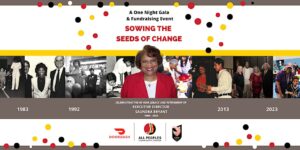 There will be a Fundraising Gala in Saundra's Honor, on September 28th celebrating her 40 years of service to All Peoples Community Center.
Thank you, Saundra, it was my honor to share your stories with our listeners.
Conversations + Connections = Community
Making the world a better place.  One Story at a time.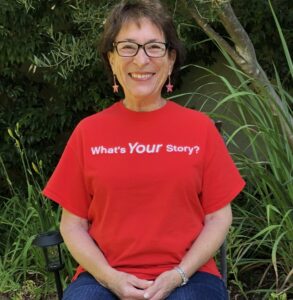 What's Your Story? I want to share it!
 Marsha@borntotalkradioshow.com