Podcast: Play in new window | Download
Subscribe: RSS
Have you ever met a Superhero?  Today is your lucky day.  Meet my guest, Yuri Williams.

A Future Super Hero.
The future is NOW.  Yuri has seen troubled youth as a Peace Officer for the Probation Department in a mental health unit for over 20 years.
In 2017, Yuri founded A Future Superhero and Friends.  This Long Beach non-profit mission is to serve people in need including veterans, the homeless, and hospitalized children. A Future Superhero and Friends organize food drives, blood drives, free movie nights, and most notably, he appears at hospitals dressed from head to toe as a superhero. Sometimes he's Spiderman other times he's Deadpool.
Two years ago Yuri formed a friendship with Rodney Smith, Jr.  Rodney had been traveling to every state in the US for many years helping people in need, such as the disabled or single mothers, by mowing their lawn for free. This last time he focused on military veterans.
Yuri, dressed as Spiderman,  teamed up with Rodney, and together they traveled to all 50 states. While Rodney was mowing lawns, Yuri was visiting children in hospitals and people in need. With the exception of flying to Alaska and Hawaii, they were on an extensive road trip making a difference in 26 days.
How can you help?
Get involved.   Do you have time to volunteer?
You will notice the Events tab on their website.  In order to continue providing the free services to the community, here are some ways you can help by visiting the links below:
You can also sign up for their PATREON monthly subscription of $3, $5, $10, $25, $50, or $100. By joining their monthly Patreon subscription they can continue their monthly services. Everyone who signs up for Patreon will receive a gift box full of love in the mail.  Donations will cover services for: elderly, children, ill children, disabled, homeless, low-income, students, veterans, and those in need.
During this pandemic teachers are in need of help, so AFutureSuperHeroAndFriends are here to help save the day. They have currently created 100 STEAM (Science, Technology, Engineering, Art and Mathematics) bags to give out to children who will be at home during the current online home- schooling.  We all know this has become the new normal and they need your help to supply the children at home with some extra credit. Each STEAM Art Kits will include a folder, pencil, ruler, glue stick, crayons, and colored pencils.
In the future.
Yuri hopes that when travel is safe once again, to continue to visit the children in the hospitals and the homeless on the streets.  And, he would love to go around the world sharing his desire to put a smile on every face he meets!  I know I smile every time we talk!
A  Superhero lies within this generous man. Don't let this mask fool you!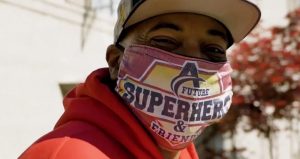 Listen now to his inspiring stories!  Thank YOU, Yuri!
---
What's Your  Story?Conversations + Connections = Community