Podcast: Play in new window | Download
Subscribe: RSS
Thank you Debra Eckerling for sharing your wisdom and experience today on my Born To Talk Radio Show about a subject we can all relate to, Goals.
Deb's system, along with her book, is a simple way to help people figure out what it is they really want and then come up with a plan to achieve their goals. People tend to overthink or underthink their goals. But when they take the time to explore what makes them happy, what they want to create, and who they want to be, they are better able to set themselves up for success.
Her system is easy to understand.   Consider this:
D.  Determine Your Mission. E. Explore Your Options.  B. Brainstorm Your Path.
I loved this tip, that you might try for yourself.  Directed Journaling.  As an example, she gave this suggestion. Take a notebook, with multiple pages, and write, "What Do I Want?" at the top of each page. Over the course of the week or even a day, maybe 3-5 times, write what you're thinking.  Once you have completed the thoughts you wrote, turn the page.  The next time you come back to the notebook, the question will be at the top, but don't read what you previously wrote until you complete the exercise.  Then you can review your notes and find the common answers or themes. Whenever you need to, repeat the process with a different question.  This process may help direct you towards your Goals. Speaking of Goals…
Goals.
What is a goal?  According to  Deb,  "A goal is a dream with a plan."  How do you get to your "happy place" without a road map? If you don't know what you want, you may get lost along the way.  Many of us she said, have trouble achieving our goals because we see challenges as obstacles rather than gifts.  It makes sense when you think about making an adjustment in the words you use.
 I recommend this book: Your Goal Guide.  A Roadmap for setting, planning, and achieving your goals.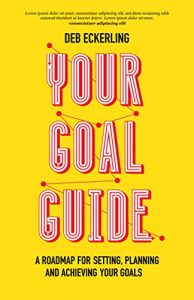 Takeaways and links.
One professional site, that Deb recommend was LinkedIn. If you haven't already set up a profile, let this show encourage you to do so.
Here are some of Deb's links for your convenience.
LinkedIn http://Linkedin.com/in/coastbunny
The Deb Method.  Stay connected, you can signup for her newsletter on her website.
http://Facebook.com/TheDEBMethod,    http://Twitter.com/TheDEBMethod,    http://Instagram.com/TheDEBMethod
Write On Online: http://WriteOnOnline.com, http://Facebook.com/WriteOnOnline, http://Facebook.com/groups/WriteOnOnline
http://Facebook.com/groups/YourGoalGuide
LinkedIn Summit: https://summit.agorapulse.com/?sc=EyYCsBEq&ac=i1SzlL2W
GoalChat Recaps: http://TheDEBMethod.com/Blog
#GoalChat is on Twitter on Sundays at 7 pm PT
#GoalChatLive is on Facebook on Mondays at 4 pm on the Mango Publishing Facebook Page: http://Facebook.com/MangoPublishing
---
Sometimes all people need is an hour with her to sort through their options and come up with a plan. In other instances, she can work with individuals and businesses who have a project in mind and need direction, troubleshooting, and resources. Whether it's a book, blog, course, or other content-related projects, she will work together with you from figuring it out to setting goals through its completion.
Is there a better time to set your Goals in place? You know who to contact to learn more!
---
What's Your  Story?Conversations + Connections = Community