Podcast: Play in new window | Download
Subscribe: RSS
Thank you, JoAnn Staten, for joining me on my Born To Talk Radio Show Podcast.
Let's get to know JoAnn.
JoAnn grew up in Baltimore, Maryland. Both of her parents were educators, but she initially didn't think that was something she wanted to do. She explains how she was drawn into education from her own experiences. She received a summer research grant from Otis College of Art and Design and traveled to the country of Suriname, in northern South America. There she worked with women Maroons, descendants of African slaves that escaped into the rain forests. She shares her stories about how art and their embroidery projects support HIV/AIDS Awareness. As a result of these experiences, JoAnn has a keen appreciation of the power of cultural awareness and communication. That was her beginning.
Areas of Focus.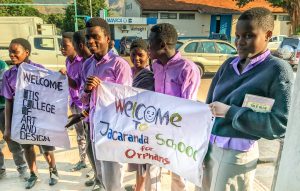 Jacaranda School Made for Kids: Malawi Creative Action and the Jacaranda Foundation.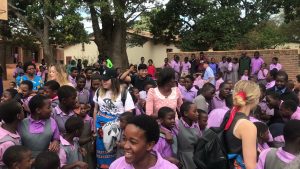 This photo shows the students taking part in the welcoming ceremony as two sets of students join forces to become one student body in 2018.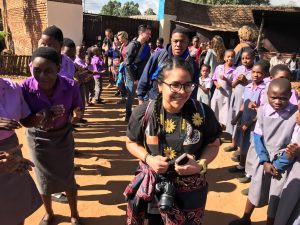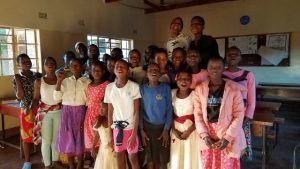 The Kufunga Girls' Group, was founded in 2017 by Ottis, Architecture major, Irina "Monsy" Barahona. Many of these girls no longer have their own mothers. Their weekly group meets to develop self-esteem, personal development, and confidence. It has been transformative for these young girls in their weekly meetings. They even created their own chant.
They shouted:
Kufunga! Yes, we can!
Kufunga! We can change the world!!
Embrace Cerebral Palsy was founded by Otis Product Design students Katie Herman and Juliette Schmidli.
Check out their innovative youtube video about building chairs out of cardboard for children with Cerebral Palsy. Can you imagine? I look forward to having them join me in the near future to tell you more about their stories!
JoAnn also shares about two other projects: Grandmother Project and the Umodzi Unity Women's Group. I am a story collector and this show does just that with my spirited guest as she gives us a glimpse into her life experiences in Malawi.
Takeaways.
If you would like to make a donation to either of the organizations you heard about today here is how you can support them.
Creative Action Malawi Campaign.
Donating through this link helps to support:
Otis students who want to participate in a Travel Study class, but can't afford the cost of the trip.
Jacaranda students who have been chosen to attend the Otis Summer of Art program.
Kufunga Girls' Group and the Umodzi Women's Group
Donating through this link helps to support:
The co-curricular Kufunga program that builds girls' self-esteem and helps to prepare them for higher education.
The Umodzi micro-finance program for women.
Please clearly identify how you would like your donation to be used.
---
As you can see, this show is filled with inspiration that JoAnn brings to her students. You can feel her passion. I hope you enjoy her stories of hope.
---
What's Your Story?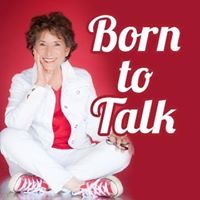 Conversations + Connections = Community
Do You have a Story to share? Contact me. Marsha@borntotalkradios