Podcast: Play in new window | Download
Subscribe: RSS
Thank you Grace Rector for being my guest on the Born To Talk Radio Show Podcast.
Home is where the heart is.
Grace is from Westchester, a gem of a community within the huge city of Los Angeles.  She was raised by her single mom, Pam for the first 21 years of her life. After graduating high school, Grace attended Georgetown University, in Washington, D.C.  She graduated this year. Education was a huge part of their lives.   
Pam, worked at Loyola Marymount College, also located in Westchester.  Over the course of her 22 years at LMU, they included 20 years as founding Director of the Center of Service and Action.  Pam helped revolutionize how LMU shares its mission with the world and ensured that its students become people for and with others.
From a young age, Grace traveled with her mom on work trips to places all over the world.  Some included Guatemala, Rwanda, and Morocco. A childhood filled with so much adaptation taught her the importance of cultural appreciation and the value of learning foreign languages.  Those lessons, stuck and ultimately became part of why she wrote her book and her career path. 
Sadly, 1 month before Grace's 21st birthday, Pam passed away. She was a beloved member of our community. Her funeral service was attended by over 800 people at LMU, just 1 month prior to the beginning of the pandemic.

The Rector Girls.
While continuing her education at Georgetown, Grace began to write. She didn't want to forget any memories that she shared with her mom. This was the beginning of how her book came to life.  At the time, she just started writing love letters to her mom in a journal.  They included her favorite memories.  She told her mom she should write a book about her life, and instead, Grace was in the process of doing the same.  That was not her initial plan.  The more she wrote, the more she realized the lessons could not only help her heal and deal with her grief but that these lessons could be shared with others.
At its core, The Rector Girls is about the lifelong lessons and intimate bond between mother and daughter. Her story reveals how life never goes according to plan, but that the improvisations are what makes it unique. Honest, heartfelt, and heartbreaking, Grace lets us into her world and her most vulnerable moments, inspiring readers to live their life with fullness and gratitude.
Grace's Takeaways in her own words:
"When life doesn't work out the way you thought, you have to work to make it work for you i.e. my mom used a sperm donor to become a mother, she didn't have children so she mentored 'the Big Kids.' "
"Gratitude is essential for living your life because it keeps you present and centered on the things and people important to you in this moment."
"Surrounding yourself with a chosen community allows you to have a support network. My mom's community (800+ of them were at her funeral) received advice and mentorship from my mom and in turn, have taken care of me after she passed away. Chosen family is just as important if not more important than blood family."
"My mom lived by the motto "don't take life too seriously." Life is short and she wanted to live it fully. In 20 years of my life, I traveled to 51 countries because my mom taught me to go do things rather than wait around and focus on things that don't matter. Even when things went wrong, or my mom would trip and fall, she'd get up, laugh, and move on!"
"Ultimately my mom taught me to be strong-willed and independent. Thank God for single moms. I don't know how she did it."
---
Listening to Grace share her Love Story about The Rector Girls is inspiring to me.
It's never too late, to consider writing your own Love Letters to your family members.
Thank You, Grace!  Your first name is so fitting!
---
Conversations + Connections = Community
Making the world a better place.  One Story at a time.

What's Your Story?  I want to share it.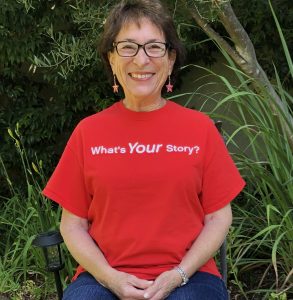 Marsha@borntotalkradioshow.com