Podcast: Play in new window | Download
I hope you enjoyed another episode of the Born To Talk Radio Show Podcast, featuring Mickey Marraffino.
Recap.
It won't take you long to hear the joy in Mickey's voice.  With a long career in the Shopping Centers Industry, Mickey has used that experience when she started her own company, MickeyM Marketing.
Shopping Centers.
If you are anything like me, going to the Mall, was part of my routine. Sometimes I needed something, other times, I just wanted to get out of the house.    In Mickey's world, she was able to gather the information that was pertinent to the customer by engaging them in conversations. In turn, she would provide the retail owner and shopping center industry information that will bring customers back.  Mickey was responsible for getting the shoppers in by building community outreach.
When you think about your favorite Mall, what comes to your mind? As an example: is it safe, is it clean, how's the parking, is there wheelchair access, what about events, are my favorite stores there, what about a food court?  Those are the questions in her wheelhouse!

MickeyM Marketing.
The pivot… taking what she knows and applying it to her own business. Her mission is to build joyful communities.  Mickey's passion is helping the small business owner.  Her marketing plan comes with a holistic assessment.   What's your brand?  Using best practices, Mickey will help a small business get the attention of their customers.   As a result of her experience, she shares that expertise with her clients.  She is an excellent listener. She asks the right questions to get you to your goals.
To learn more:   LinkedIn   Facebook  South Bay Women's Conference
Balance.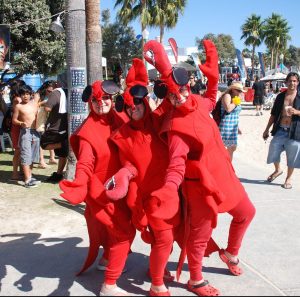 Mickey is able to blend what she loves in her professional life and personal life. Like me, she is a connector. And make no mistake, she loves to have fun. Check her out dressed as a lobster with her lobster buddies for the Redondo Beach Lobster Festival.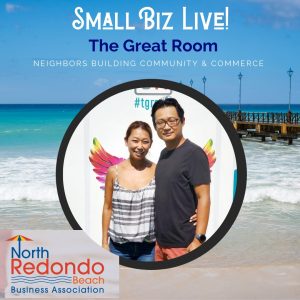 She mentioned the silver linings right now.  One is her connection with the North Redondo Beach Business Association. She has a Small Biz Live on Instagram, Saturdays at 10:00 am PT.
When describing Mickey, there is no surprise that Joy is important to live a balanced life.  When asked what brings her joy…she loves looking out at the sunsets, the treasures of Mother Nature in her garden, and her German Sheppard, Ziggy rolling, and barking with joy, just to name a few.
We may have different flavors of joy, the key is to acknowledge it and embrace it!
---
Making the world a better place.  One Story at a time.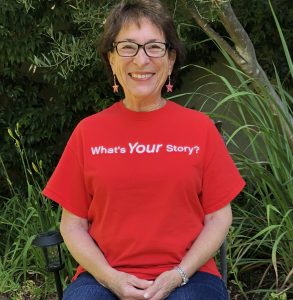 What's Your Story?  Let's talk!
Marsha@borntotalkradioshow.com