Podcast: Play in new window | Download
Subscribe: RSS
Thank you David Prentice and David Doan from The Midnight Mission for joining me on the Born To Talk Radio Show Podcast.
David Prenice is the President and CEO                                                        David Doan is a member of the Board of Directors

The Midnight Mission.
The Midnight Mission is the oldest continuously operating human service organization in the Los Angeles region. They have been serving the homeless individuals in the Skid Row area in downtown Los Angeles since 1914.   They run one of the most efficient direct service operations in the country. With only five executive managers throughout its 100-year history.  The Midnight Mission has been a consistent beacon of light for those with nowhere else to turn.
Over their history, they've learned that repairing the lives of formerly-homeless individuals is really about recreating their safety net. The safety net is a network that members of society access every day. This includes legal and medical care, as well as friends and family who they can rely on for problems large and small. Their goal is to assist homeless individuals on their quest to improve and stabilize their lives.
The Midnight Mission designed the Healthy Living Program, which utilizes industry-wide best practices and progressive thinking. This customized program offers strong educational, vocational, legal, health and wellness resources in an effort to encourage their program members to become self-sufficient.
Their Takeaways:
The reasons people become homeless are varied, and so must be the solutions. The Midnight Mission has been offering paths to self-sufficiency to individuals and families in need since 1914. Their extensive range of essential services, including 12-step recovery, education, job training, and work programs, are designed to get people off the streets and into productive lives.
In Closing.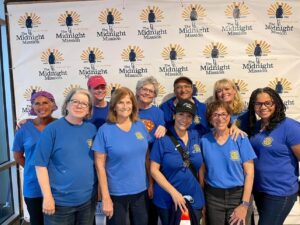 I know first hand, what it means to volunteer at The Midnight Mission. As a member of the Playa Venice Sunrise Rotary Club, we go every year to help in the food line as homeless come in for their nutrious meals prepared with love and served with respect.
There are many ways to donate. Please click on this link
The Midnight Mission knows the important difference between a hand-up and a hand-out. Every day, with the support of their supporters and donors, they help people turn their lives around and thrive.
Thanksgiving is this week. Perhaps this podcast will encourage you to help others that may be less fortunate.
Conversations + Connections = Community
Making the world a better place.  One Story at a time.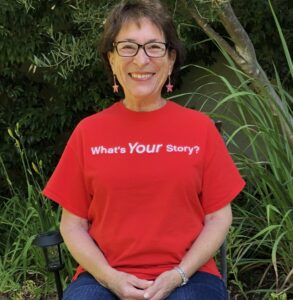 What's Your Story? I want to share it!
 Marsha@borntotalkradioshow.com