Join me and my guest, Robert Stupack on the Born To Talk Radio Show Podcast on Monday, February 17th from 1-2 PT.
Let's get to know Robert.
To begin with, Robert grew up in Rockville Centre, NY and graduated from Penn State University with a B.S. in Accounting.  He was a member of Delta Chi Fraternity and was inducted into Skull and Bones – an honorary society.  After graduation, Robert moved to Manhattan and worked as a CPA for Price Waterhouse & Co. in both the Audit and Tax Departments.
In 1984, he moved to San Francisco to take on a new role as an Institutional Fixed Income Salesman for LF Rothschild and then Smith Barney.  For the past thirty years, Robert has lived in Marin Co. California.
When asked, he defines himself as an author, adventurer and a discoverer. What exactly does that mean and how has he applied those definitions to his life?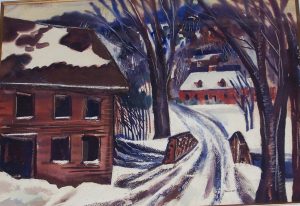 Art.
Robert is an art aficionado.  In 1999 he purchased a painting from an art dealer he trusted.  It was a 1943 painting by Norman Rockwell of his studio in West Arlington, Vermont.   A provenance was provided that stated that he purchased it from the Associated American Artists Gallery in New York.
This painting hung in Roberts's office for many years, but he was very curious about its authenticity.
That curiosity launched an obsessive journey that resulted in him recently being issued a patent for the anti-forgery technique Rockwell used in all of his paintings created after 1942.
The Patent.
How are patents achieved?  As a result of working seven days a week for nine months, with great tenacity, Robert achieved his goal. His background as a senior audit and tax professional, accustomed to verifying facts and paying conscientious attention to detail, also played a significant role in the equation.
In 1943, Norman Rockwell's Studio burned and many of his treasured possessions were lost. This life-changing event was captured in both an illustration and a painting. After several attempts of failing to authenticate this historically-important piece, Robert began his investigation into the life and times of Norman Rockwell.
Subsequently, he discovered that Mr. Rockwell developed a technique to conceal his initials in every painting created after 1942.  The artist did this to prevent outright forgery or false attribution of his works.  Robert was able to forensically determine how it was accomplished and how to reveal the initials.
The Author.
Robert is also the author of Drake's Treasure. A Real-Life Adventure. Discovering the treasure of Sir France Drake. Uncovering the theft of Drake's "Plate of Brass"
Where was this treasure discovered?  What is the story behind the story?
Tune in to hear about the fascinating life of my guest Robert Stupack.
He does have stories to share.
---
What's Your Story? Conversations + Connections = Community