Podcast: Play in new window | Download
Subscribe: RSS
Thank you Ron Sandison for joining me on the Born To Talk Radio Show Podcast.
Ron is the founder of Spectrum, with a mission of empowering young adults with autism for employment and independence. He works full-time in the medical field and serves as a professor of theology at Destiny School of Ministry. Ron is a Pastor and also volunteers as an advisory board member of the Autism Society of America Faith Initiative. He and his wife Kristen and daughter Makayla will be relocating to Tampa, Florida.
What is Autism?
There is no one type of autism.  Autism, or autism spectrum disorder, ASD, refers to a broad range of conditions characterized by challenges with social skills, repetitive behaviors, speech, and nonverbal communication. Ron categorizes it simply as those with higher needs and those with lesser needs. Each,    with a different way of interrupting information.
Growing Up Ron.
Ron's mom was an artist, and she used art as a form of communication with Ron.  He loved to draw and he loved his stuffed animals.  The first one being a prairie dog and he also had a honey badger. Ron describes how his prairie dog comforted him when he would have a meltdown. He was sensitive to lights and sounds, but over time it decreased. Ron's dad encouraged him to work from a very young age, including pushing a lawnmower to mow lawns.
Ron repeated kindergarten.  As he got older and was in high school, he was a notable athlete in track and cross country.  He shares how in his senior year, his precedent-setting Americans with Disabilities case, that allowed him to compete because he was one year past the legal age.

A Parent's Guide to Autism. 
Practical Advice. Biblical Wisdom.
On April 5, 2016, Ron's book was released. His motivation for writing this book was to encourage parents who have a child with autism to never give up and never put a limit on the things their child can accomplish. In writing his book, he interviewed over 40 experts in the autism community and over 40 parents who have a child with autism.  One of the things he is teaching parents is to think, "can," not can't. Focus on that gift, develop that gift, use that gift. Here is the link to his book.
Ron's Takeaways.
Ron's journey with autism demonstrates that with love and acceptance anything is possible. Janet Sandison, Ron's mom, used her son's love for animals and art to teach him social skills. She quit her job as an art teacher to become a full-time "Ron Teacher."  His advice:  "As you work with your child's passions, he or she will learn new skills and discover new abilities. Parenting like everything in life requires faith, hope, and love."
In Closing.
Here is a powerful quote from Ron. "Never allow autism to hold you back because even if you have a major disability like autism, you're able to do awesome things with the help of people who believe you are able."
Ron is currently putting the finishing touches on his new book.
If you have any questions, Ron has graciously allowed me to include his email. You can reach him at sandison456@hotmail.com.
Thank you, Ron, for your inspiring story!
---
Conversations + Connections = Community
Making the world a better place.  One Story at a time.

What's Your Story?  I want to share it.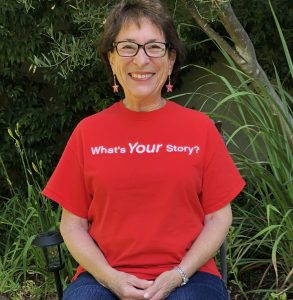 Marsha@borntotalkradioshow.com