Podcast: Play in new window | Download
Subscribe: RSS
Thank you, Simon Balderas and Buffy Castillo, for joining me on my Born To Talk Radio Show Podcast.
Meet the Team.  Simon Balderas & Buffy Castillo.

Simon is a Native American filmmaker. His credentials include Director, Writer, Producer, DOP, and Editor.  He has always been interested in storytelling.  Simon will tell you his father was an amazing role model. He had an interest in people from all walks of life, which truly inspired Simon to be the man he is today. Growing up, he learned about the "Indian School" from his grandfather. With that background and his 30 years of experience in film making and so much more, Simon has brought his projects to life.  He is happily married to Lori and together they are a team on a mission, at WonderMouse, Inc.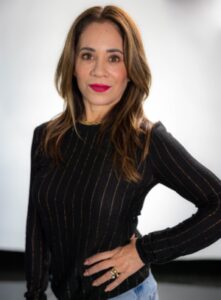 Buffy is an American Indian Executive producer.  She is also affiliated with the Diegueño and Apache Tribes of North America. Gaining inspiration from her father who was a founder of Candelaria Native American Council serving economically disadvantaged and high-risk American Indian and Native American adults, children, and families. Buffy grew up in a very consciously aware household learning the importance of caring for our fellow man from both lines of her family including her mother who also founded a Migrant Child Development Center for migrant worker families.
WonderMouse Studios.
Simply put, the producers at WonderMouse Studios have a passion to craft and deliver visual stories. They have been molding and shaping inspirational stores that grab the imagination.  We will be talking about their latest films, "The Runner" and "Buffalo."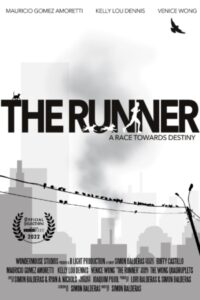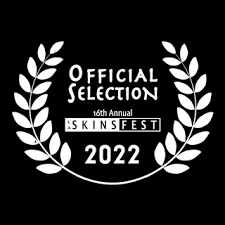 The Runner was recognized for 2022 in the LA Skins Fest.  This is a Native American film festival that takes place every year as part of the City of Los Angeles Celebration of Native American Heritage Month, each November.
What is LA Skins Fest?

"We are supported by corporations, art foundations, and the City of Los Angeles in order to provide a free event that offers new opportunities to Native American filmmakers. We offer additional programming to further encourage Native American filmmakers, including a monthly writer's group, monthly director's workshop, and youth multimedia workshops."
Here are Simon, his wife Lori, and Buffy at the Native Writer Recognition Event at LA Skins Fest.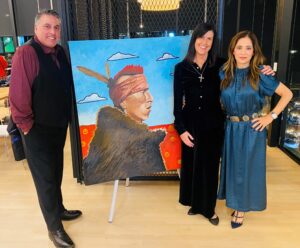 Buffalo.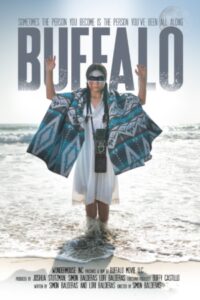 Her true life story is told in her feature film project entitled "Buffalo", a poignant recollection of growing up in Southern California as an American Indian woman. It is a unique female-centric film of empowerment, love, and forgiveness.
Simon's Takeaways.
"I am thankful for the invaluable experience I have had through the years behind the camera working with many talented people. It has allowed me to gain the skills necessary to make films in many different genres. These skills, however, are all secondary to my life experience and journey on this planet as a human being. Along with life's trials, tribulations, triumphs, and lessons, I am compelled to tell stories that will inspire others to connect the dots in their own life."
"Through the amazing partnership, my wife Lori and I have with Buffy Castillo, I am excited to step out as a Director. Now, with our next film Buffalo and many other stories that will follow. If you are interested in enriching your personal life through stories about our individual human experience, I am confident that my voice will present a uniquely satisfying cinematic experience for people of all ages and walks of life."
Buffy's Takeaways.
"My hope for this opportunity is that other creative Native people will tune in and see what we are working on and reach out for collaboration. Our production team is multifaceted, so we are always interested in meeting new creators and investors. I was a homemaker for 15 years and I am a lifelong volunteer, so I'm very thankful to have joined forces with WonderMouse Studio."
"We have built a solid foundation and want to mentor others along the way. I have an entrepreneurial spirit and I am deeply connected to many communities that I serve. I'm very passionate about uplifting others' voices. I love people and their unique stories. I want people to disconnect from technology and plug into themselves and their communities. Get reconnected. This film Buffalo is really about Simon and myself reconnecting with our culture."
In Closing.
Above all, as a result of all the efforts at WonderMouse Productions, they have created many services through WonderCorp. Check them out.
Tune in to hear their exciting stories!
***********************
Conversations + Connections = Community
Making the world a better place.  One Story at a time.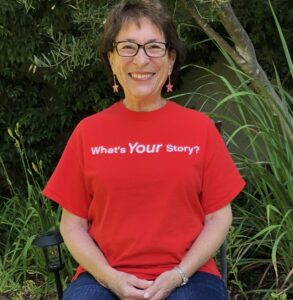 What's Your Story? I want to share it!
 Marsha@borntotalkradioshow.com
Facebook    Twitter  Instagram  LinkedIn