Joining me on April 4th from 1-2 PT on the Born To Talk Radio Show Podcast, is Steven Manning. He is a noted provocateur, author, professional speaker, and thought leader.
Meet Steven.
To begin with, Steve was born and raised until his teens in Communist Romania. He describes a "delightful" stretch as nearly homeless in Rome. This was followed by a great escape story to tell. As a result, his family finally settled in Woody Allen's den of "mediocre intellect," in Los Angeles, where he continues to reside.
Some people collect stamps, memorabilia, music, dolls, Zippo lighters, bottle caps, stamps, happy meal toys, rocks, and bad habits. Instead, Steve collects people and stories. He has been pounding his keyboard for many years, right through a highly accomplished business life. He is credited with the origination of prominent creative and empirical concepts, strategies, and techniques widely used today in the marketing and advertising world.
Steve is a recognized expert in a number of fields including marketing, advertising, corporate governance, and conflict resolution. He is also a consultant to typically successful people and businesses on a variety of matters, disciplines, challenges, and issues real and often imagined. Many of Steve's written pieces have been widely circulated around the world.
His "Life Is Not A Dress Rehearsal" and "A Life Without Passion Is A Life Not Worth Living" philosophies are on his omnipresent imaginary teleprompter.
Author.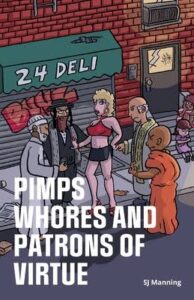 Pimps Whores and Patrons of Virtue invites readers to meander through 35 years of Manning's intellectual observations, reflections, projections, and correspondence. He shares his musings, life experiences, along with stamp-filled passports. He's a story collector of people who he finds interesting and boring. Steve uncovers people and things both good, bad, and ugly, with irrelevant facts, factoids, and more.
Subsequently, the anecdotes the author presents paint a kaleidoscope of people, which he categorizes as pimps, whores, and the rarest of the species, patrons of virtue. This book showcases all three categories in their blooming glory and as well as their incomprehensible worst, in stories fueled by humor, inquisition, and inspirations, balanced by the reality of life.
In Closing.
Steve will be sharing some of his thought-provoking, poignant, entertaining, and satirical anecdotes, stories, and more. "He asserts that political correctness is the most corrosive cancer of the intellect. Thus, he never is! His stories will get you laughing, thinking about issues, as well as your own life. Even to shed a few tears. All about the human condition and spirit."
Are you curious how he came up with the title of his book?
He is provocative and you will hear all about this and more!
***********************
Conversations + Connections = Community
Making the world a better place.  One Story at a time.

 What's Your Story? I want to share it!
 Marsha@borntotalkradioshow.com
Facebook    Twitter  Instagram  LinkedIn