Join me on the Born To Talk Radio Show Podcast, Monday, December 17th from 1-2 PT with my guests Vikki Shepp, CEO of Girl Scouts of Orange County and Erin "MAVERICK" Johnson, Camp Director.
Did you know?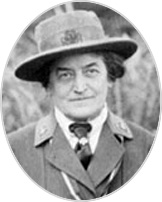 Girl Scouts was founded by Juliette Gordon Low in March 1912, when she brought that first group of girls together in Savannah, Georgia. She wanted them to explore new possibilities and the wonders of the world around them—and she wanted them to do it together.
Along with Juliette Gordon Low, also known as "Daisy," these first Girl Scouts blazed trails and redefined what was possible for themselves and for girls everywhere. They played basketball. They hiked, swam, and camped. They learned to tell time by the stars. And most importantly, they shared a sense of adventure and a belief that they could do anything. And just like Girl Scouts do across the country and around the globe today, they offered a helping hand to those in need and worked together to improve their corner of the world.
Since the founding of the Girl Scout Movement more than a century ago, Daisy's small circle of girls has grown to include nearly 2 million girl members and more than 50 million Girl Scout alums—united across the decades by a spirit of lifelong friendship and shared adventure and the desire to do big things to make the world a better place.
Get to know Girl Scouts of Orange County CEO Vikki Shepp.
A collaborative trailblazer, lifelong Girl Scout, and enduring champion of girls' and women's causes, Vikki Shepp brings a deep understanding of the youth leadership market and evolving needs of today's girls to her role as CEO of Girl Scouts of Orange County, a position she assumed on January 1, 2018. Over her decade-long career with Girl Scouts of Orange County, Vikki has held numerous leadership positions, most recently Vice President of Mission Operations, where she oversaw all aspects of volunteer engagement and management, girl program, member services, and member recruitment. She previously held leadership positions with several other non-profit organizations. Vikki is on a quest to ensure that every girl has the life-changing opportunities that Girl Scouts provides to prepare for a lifetime of leadership. Leading by example, she is guiding a vibrant, forward-looking leadership development organization– 33,000 girls and adults representing every zip code in Orange County who believe that every girl can change the world.
As a Girl Scout growing up in Seal Beach, CA, Vikki earned the Girl Scout First Class Award (now the Girl Scout Gold Award), the highest award a Girl Scout can earn.
Meet Girl Scouts of Orange County Camp Director Erin Johnson.
Erin "MAVERICK" Johnson is Outdoor Program Manager and Camp Director for Girl Scouts of Orange County (GSOC). In this role, she oversees GSOC's Outdoor Program delivery and activities and operations for annual outdoor events, such as Cadette-O-Rama, volunteer-led Day Camps, and Weekend and Summer Camps at GSOC's Camp Scherman in the San Jacinto Mountains. Erin has the unique privilege of being the camp director of the very camp she attended as a child, a place that was magical and empowering all at the same time. She has spent more than 20 years working with children and now comes full circle as she works with an amazing team to make a positive difference in the lives of girls. Camp is the place for every girl to discover her greatness and make memories she will cherish for a lifetime.
As a former Girl Scout and Brownie and Girl Scout Leader, this organization has a personal meaning to me. How many of you former Girl Scouts remember the Girl Scout promise??
Girl Scouts are more than just cookies. Listen in to hear about the great work Vikki and Erin are doing in their Girl Scout profession.
Conversations + Connections = Community
You can contact me at marsha.borntotalkradioshow.com if you would like to share
YOUR Story!