Joining me on the Born To Talk Radio Show Podcast on June 7th, 1-2 PT are Katie McGuire and Mary Garcia, representing Wallis Annenberg PetSpace.
Wallis Annenberg PetSpace.
Wallis Annenberg PetSpace is the latest extension of Wallis Annenberg's philanthropic work.  As a long supporter of organizations and projects, Wallis is dedicated to improving the wellbeing of people and communities in Los Angeles, surrounding regions, and throughout the world.

Nestled in the community of Playa Vista, CA. Annenberg PetSpace is a unique community space. They feature an interactive place for pet adoptions, an education center, and a leadership institute. Annenberg PetSpace focuses squarely on the mutually beneficial and dynamic bond between people and their pets.  As a result, this wonderful location is a gem in Playa Vista.
Let's Meet Katie & Mary.
Katie is the Animal Behavior & Training Coordinator.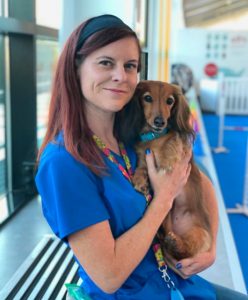 In 2020, Katie officially became the Animal Behavior & Training Coordinator after serving as the exclusive group class trainer since 2018.  She also launched her own training business. This gives her the ability to grow and develop her skills.  She focuses on dogs with problem behaviors and training for competition dogs in different venues
Katie is a Certified Pet Dog Trainer with more than 13 years of experience.   Her childhood consisted of as many animal activities as she could find. They included care, training, and competing with horses.  She also volunteered for a local animal rescue. Katie spends time training her own dogs in multiple activities such as tricks, agility, and obedience.
Along with her many accomplishments, Katie is also an AKC Canine Good Citizen and Trick Dog Evaluator.  She is a member of The Association of Pet Dog Trainers.
A member of Dog Trainers Alliance of Southern California.  Member of Pyrenean Shepherd Club of America.  And a member of the Valley Hills Obedience Club.  Clearly, Katie is passionate about her work.
Mary is the Adoptions and Foster Coordinator.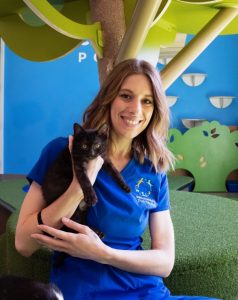 In 2018, Mary joined the animal care team at Wallis Annenberg PetSpace. Her focus is on connecting people and pets.  Mary's passion for Animal Care started when she was only 12 years old. She volunteered for a single day at a local animal shelter in her hometown in rural Maine.  From that day on, her passion for animal rescue ignited and never wavered.
Mary devotes her focus to animals in need. Starting as a professional dog walker in New York City, and shortly after, moved cross-country to Los Angeles to discover new opportunities.
Now, Mary joined the Michelson Found Animals team as a foster and nursery coordinator for the Kitten Foster Project.
Then she has continued her journey at the ACCESS Specialty Animal Hospital team as a doctor's assistant for a veterinary surgeon.  Mary has completed the Veterinary Technology Alternate Route program at Platt College and earned her Fear Free certification.
Miss Kitty.
Lastly, this podcast has a personal connection for me.  Thanks to Annenberg PetSpace and Mary, I adopted Miss Kitty on February 17th. As you can see, she is PURRRFECT.
There are lots of programs and events happening at Wallis Annenberg PetSpace.
I'm excited to share the great work that Katie and Mary are doing to help the pets and people in our community.
---
Conversations + Connections = Community
Making the world a better place.  One Story at a time.

What's Your Story?  I want to share it.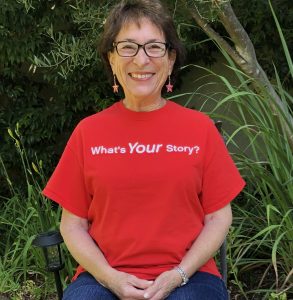 Marsha@borntotalkradioshow.com
Facebook    Twitter  Instagram  LinkedIn