Podcast: Play in new window | Download
Subscribe: RSS
Thank you, Alison, for joining me on the Born To Talk Radio Show Podcast.  Her story of love in the face of life's death challenge is compelling.
Alison.
Alison is a successful realtor with RE/MAX in Manhattan Beach, CA.  Her involvement in Real Estate demonstrates professionalism and dedication. Alison exerts an unflinching commitment to ethics, serving her clients beyond their expectations. Alison is rooted in her community. As an example, dedicating her scarce free time to the Hermosa Beach Summer Concert Series, Rotary, and other community concerns. Giving back is a fundamental foundation of her core values. Alison gives generously to various charities including Children's Miracle Network.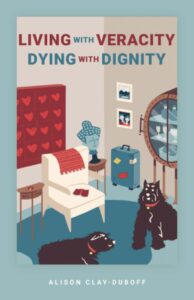 In her heartfelt book, Living With Veracity  Dying With Dignity  Alison honors her beloved husband Ken. Death is inevitable. Sometimes it is totally unexpected in the case of my husband, Butch in 2009. However, sometimes illness just jumps into our bodies and the life force eventually dims out.  The 1st anniversary of Ken's passing is next week, August, 3rd. Ken died as he lived on his own terms. He wanted to go with a bang, not a whisper.
To begin with, you will hear why she wrote this book.  What brought him to the decision of choosing Medical Aid In Dying? Consequently, how did her family and friends support Ken in this decision?
As a result of Ken's passing, has her view of death changed?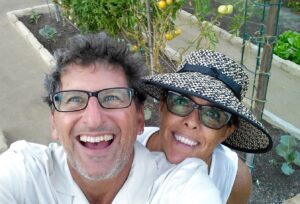 During happy times together, Alison and Ken loved to travel and you can clearly see their happiness in this photo. Therefore, it's a reminder to celebrate the happiness in our lives. In turn, they leave us with wonderful memories.
Alison's Takeaways.
"In thinking about death, we are deeply thinking about life. Death needs to enter into our discussions and the fear and dread around mortality must be better understood, more clearly defined, and accepted."
"Fearing death should force us to embrace the life we have now, to find beauty in the smallest of moments, the tiniest of gifts. Nothing is promised in this life we are living now, so grab ahold of what you have and if what you have doesn't bring you joy, then go out and GIVE joy as it will come back to you."
 Imagine if you were in this situation, what would you do?
  Thank you Alison for sharing your story with us.
***********
Conversations + Connections = Community
Making the world a better place.  One Story at a time.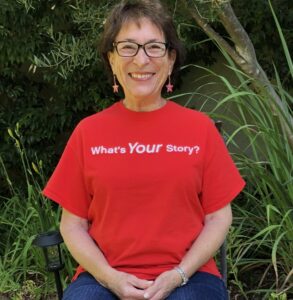 What's Your Story? I want to share it!
 Marsha@borntotalkradioshow.com