Please join
me for another episode of the
Born To Talk Radio Show
heard Monday, July 30th starting at 1:00 PT with my special friend and future Superhero to thousands,
Yuri Williams
. Yuri is a member of the Orange County Probation Department as a Juvenile Correction Office in the Mental Health Unit.
Yuri and I met over 20 years ago when I was the Membership Director at the Westchester YMCA in Los Angeles. Little did I know then, that the guy in the red striped knee high socks, playing noon ball would become the man he is today.
Yuri is one of 16 finalists for a grant from Why We Serve. The nominees are made up of officers, first responders, and community organizations from across the country. I've attached the link for you to vote.
In 2009, Yuri's mother, Lynda C. Hubbard, passed away from an eight year battle with cancer. As a way to honor her, Yuri decided to turn grieving into action. For the past 5 years, he has been providing services to those who are battling cancer and other illnesses, predominately the homeless and young children.
It started with him going in his spare time, spending a few hours here and there, and now he goes seven days a week spending four to five hours a day.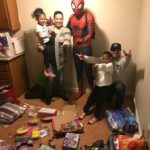 He dresses up as Spiderman and takes all kinds of items needed to make their lives a little easier, including toys, hats, socks, shoes, toiletries, food, and canned goods. He talks to them and provides a listening ear while encouraging them to hang in there as they share laughs and a prayer or two.
As for the children battling cancer, he also dresses up as their favorite superhero, and visits with them at the local hospital. He attends surprise parties and provides them with gifts such as their favorite superhero figurine. Spending time with the homeless and the children battling illnesses brings him so much joy because he knows his mom is smiling down on him and beyond proud of his efforts to make the lives of the less fortunate better than imagined.
Now he is embarking on a 50/50/50 tour: 50 states, 50 children, 50 homeless…all to bring awareness and spread compassion and love to the world. He will be spending 30 to 60 days to open the eyes of those who don't know about low funding of 4% for childhood cancer, people with disabilities, bullying, and the homelessness epidemic going on all around us.
Do you love listening to Podcasts? Simply click on the subscribe button on this post and you will receive a reminder each week about the upcoming show.
Born To Talk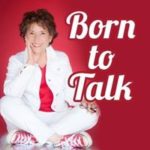 Conversations + Connections = Community
What's Your Story?
Here's how you can reach me.
marsha@borntotalkradioshow.com