Join me on the Born To Talk Radio Show Podcast on Monday, June 8th from 1-2 PT. My guest will be Catherine Graham. She is the Founder & CEO of The Financial Aid Shop and creator of the "The Financial Aid Formula."
Let's meet Catherine.
To begin with, Catherine has worked 30+ years in university financial aid administration delivering over $3 Billion in financial aid to thousands of students. In 2015, she launched her own financial aid consulting firm. They provide coaching and professional development to financial aid professionals across the country.
Catherine holds a B.S degree from the University of Redlands and a Master's in Public Administration from USC. She is a member of the National Association of Financial Aid Administrators, Western Associate of College Admission Counselors and is Chairwoman of the South Bay Business Women's Association's Scholarship Committee. In addition, Catherine is an advocate for foster youth and is a former Los Angeles County foster parent and a cat rescuer in rehab.
The Financial Aid Shop.

What is the Financial Aid Shop all about?
The Financial Aid shop is designed for families with students at any age, or any income bracket.  They teach students and families how to get financial aid and scholarships for college. It is never too early to learn about college costs and affordability and how to select a college you can afford.
The Financial Aid Shop courses offer families an alternative solution to overly complicated DIY research and high-cost consulting services.  They take the stress out of college financial aid planning and gets your student ready for their senior year in high school.  From stress to financial success!
Tips.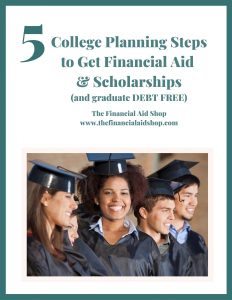 At a glance. What are the 5 college Planning Steps The Financial Aid Shop recommends?
Ask the Why.
Learn the Vocabulary.
Know the Time Lines.
Save for College.
Scholarships.
Catherine will be telling us more about those planning steps.
The Financial Aid Formula for FAFSA Filers is an easy to digest online course designed to help families plan for and navigate the entire college financial aid process with the goal of going to college debt-free. The Financial Aid Formula…
Puts students and families in charge of their financial future.
Offers financial aid award projections and costs calculations through college graduation.
Walks families through the FAFSA and the CSS Profile.
&
Introduces resources, payment plans, and tax benefits for parents.
As a result of Covid-19, Catherine will be sharing her advice for current college students, as well as for those that are planning for college this fall.
Catherine has some lofty goals – reducing student loan debt and changing the way families think about college.  In addition, teaching families about their financial aid eligibility as early as 8th grade.
Tune in to this informative show.
Catherine talks about the challenges families face and how she is helping them tackle them.
---
What's Your  Story? Conversations + Connections = Community
---