On Monday, January 14th from 1-2 PT, the Born To Talk Radio Show Podcast will be featuring Los Angeles Police Department Officer and Founder/CEO of Badge of Heart, Ken Lew. The Organization was inspired and founded in 2014.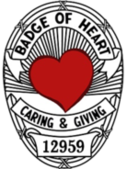 Badge of Heart…Helping Families Most Vulnerable.
Badge of Heart is a non-profit organization that works together with the community & Officers to meet the emergency needs of families, individuals & crime Victims. Such as housing assistance, utility assistance, food, clothes, baby necessities & personal care items.
Everyday Los Angeles Police Officers respond to thousands of calls for service, which means continuous interactions with the public. Officers see many situations, where good hard working families and Victims need assistance; including many hard-working parents and families working several jobs just to make ends meet. So often, it's not enough. They strive not only to give relief but to show compassion to the deserving people of our community.
Their Mission:
Partnering with Community to help Police Officers sponsor families in need (Victims of Crime or Financial Hardship). Over 2,400 families served since 2015.
What is the inspiration behind Badge of Heart?
We will be talking about why Ken started this organization and the impact it's having on the Los Angeles communities.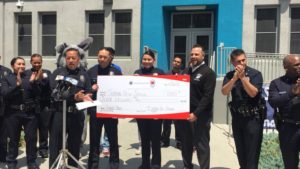 As you might imagine there are heartfelt stories of generosity and kindness. As an example this $7,000 check award to Jordan High School.
Ken will be sharing these success stories and giving us information about how we can support this worthy organization.
Today more than ever, communities working together to strengthen families and keep them safe is a vital part of our safety and security between law enforcement and the residents. Trust and respect are partners in making this happen. Los Angeles is very fortunate to have Officer Lew leading the way in his non-profit.
Tune in to hear his story of how he and his fellow officers are making a difference.
Conversations + Connections = Community
Do you have a Story you'd like to share? You can reach me at marsha@borntotalkradioshow.com