Podcast: Play in new window | Download
Subscribe: RSS
My brother Larry was my special guest on the Born To Talk Radio Show Podcast.  Imagine that!
What's Your Story Westchester?
This is where it all began for Larry and me! Our parents, Al (aka Sonny) and Ida bought their home in 1946 and lived there until they passed.  Mom in 1989, dad in 1993. Larry and I have wonderful childhood memories of growing up as the "Bergher's." When you think about it, do you ever reminisce with your family members? How far back do you travel?  This podcast today with Larry has been a trip back in time along with the pathway to today and our futures.
A sample of our conversation.
Larry and I will be talking about cherished childhood memories. This includes going to our grandma and grandpa's house. They had a huge apricot tree in their back yard, in Culver City.  We were also close to our Aunt and cousins from my mom's side. What was school life like growing up and attending our local 98th St. Elementary School, Airport Junior High, and Westchester High?  Times, have changed, our neighborhood is now a major parking facility for LAX with the people mover component to be ready next year. It looks like a Disney ride that will take travelers straight to the terminals!  I continue to live in Westchester. For some time, Larry and his family lived in Westchester, too.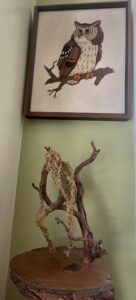 Larry inherited many life lessons from our dad. He will tell you, that Dad was his hero. From his love of sports including little league through high school baseball, dad also taught Larry to golf. Yes, he did get a hole-in-one!  Our dad was very artistic, and Larry is too. To that point, he became an art teacher at Orville Wright Middle School.  Larry has an uncanny ability to fix anything.  I might mention, that our grandpa Bergher was a carpenter. As a matter of fact, Larry has some of his hammers!
Our mom was also talented, she was an expert seamstress, working right out of high school at Rose Marie Reid's, a major swimsuit designer. Those talents served her well, and I was the beneficiary of them from childhood to adulthood. From all the clothes I wore to school, to prom dresses. Then maternity clothes, then clothes for my daughter, and matching sweaters for her Cabbage Patch kid. Then when sewing wasn't her passion she began to do crewel stitchery.
He mentioned the "wire man" he made for me decades ago and also featured in this photo, is the Owl crewel stitchery mom gave Butch and me on our first wedding anniversary in 1972.
You will also hear about how food played a role in our lives. From holidays, and family traditions, to those PANCAKES!!! No one did it better than our dad. But, Larry inherited that too!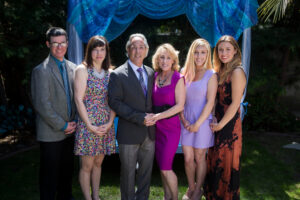 Larry and I experienced the loss of our spouses, just a few years apart. We each have 2 kids.  Several years after Jan passed, Beth came into his life.  This is a photo of their wedding including their blended family. In this photo are their kids. Rachel, next to Larry and Daniel. Next to Beth, is Danielle, and Lauren. These are exciting times for this blended family. Daniel is getting married one month from today and Lauren is getting married in September.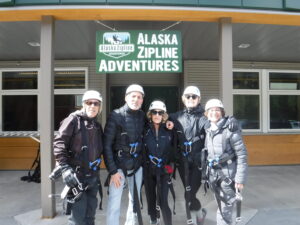 Much like Larry and Beth, I like to travel too. Here is a photo of from our Alaskan Cruise in 2017 with her brother Jared and sister-in-law, Trish. We were preparing to zipline!! A bit out of my comfort zone!!! But we had a blast! I would cruise with these folks again in a heartbeat!
In closing. Larry's Beautiful Poem to Beth.
My Rose
A fragile beauty with wondrous colors and scents galore.
The petals fall but the stems will stand strong.
Wind, rain, dreary days, and scorching sun.
During seasonal times you may be clipped only to grow back stronger and more beautiful.
When you are feeling weak, I will give you water.
When you are hungry, I will give you nourishment.
When you need a helping hand, I will prop you up.
You are my love
Your smile blooms vibrantly like the petals of a flower.
Beth, you are my Rose.
With all my love,
LWB
***********************
In many ways, this is an oral history.
I can only imagine what our mom and dad must be thinking!!!
Conversations + Connections = Community
Making the world a better place.  One Story at a time.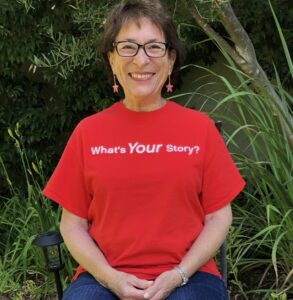 What's Your Story? I want to share it!
 Marsha@borntotalkradioshow.com
Facebook    Twitter  Instagram  LinkedIn