Joining me on The Born To Talk Radio Show Podcast on January 30th from 1-2PT is Michele Barbic. Hope Therapist.
Meet Michele.

To begin with, Michele has a Master's Degree in Holistic Counseling Psychology from John F. Kennedy University. She has done extensive graduate studies at Santa Clara University.  Michele counsels children, teens, and adults dealing with grief as a normal and necessary process. Her work has included the mental health field in a variety of settings including hospitals, residential care homes, schools, and non-profit organizations.  Michele has experience as a  bereavement therapist with hospice, facilitating individual and group counseling.  Therefore, she realized her passion for working with the spiritual and personal transformation that clients realize through the process of grief.
Michele's Philosophy of Therapy.

By understanding the nature of grief and listening to our hearts, we can get through this time of confusion, sadness, anger, loneliness, fatigue, and generally not feeling at peace. These are normal reactions to grief. But you do not need to be alone in this process. Michele helps her clients to find hope, heal their hearts and integrate loss into their lives.  She has been honored to be a witness to their incredible growth and transformation.  Michele uses multiple modalities to support her clients as they journey through the unfamiliar territory of grief.
She will tell you we all grieve differently.  Accordingly, we need to know what to expect next. Including, how to handle the unusual emotions we are experiencing and find compassionate and knowledgeable support. Therefore, her goal is to guide others on this newly defined path. And to assist them to find meaning and healing from their loss, bringing wholeness to their life.
Her Vision.
Provide a safe environment for clients to resource their inner wisdom to gain confidence, overcome fears, discuss what is next and discover their new life.
Recognize my client's developmental, religious, spiritual, cultural, and sexual differences to provide a personalized approach to their therapy.
Work with clients' goals for positive change and transformation.
Empower clients with tools for wholeness.
Make any appropriate referrals.
In Closing.
"Life isn't always easy. Sometimes, even the strongest people amongst us need a little bit of help to work through some of life's more challenging problems. Everyone has battles to fight and hurdles to overcome at some point. Whether you struggle with grief from the loss of a loved one or are challenged with life transitions.  Or, any other issue, know that there is hope for a better tomorrow. You might be initially hesitant to seek out help and support for personal matters.  But when you do, you will feel confident that you are taking a courageous first step toward getting to a better place and being a better you."
Tune in to hear her story.
*********************
Conversations + Connections = Community
Making the world a better place.  One Story at a time.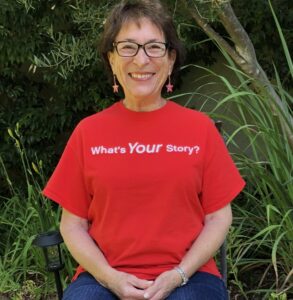 What's Your Story? I want to share it!
 Marsha@borntotalkradioshow.com