Podcast: Play in new window | Download
Wellness Empowerment Coach, Katie Rampen was my special guest on the Born To Talk Radio Show Podcast. Let's breakdown those words. What does it mean to be a Wellness Empowerment Coach?
Wellness.
Wellness is an active process of becoming aware of and making choices toward a healthy and fulfilling life. It is more than being free from illness, it is a dynamic process of change and growth. "…a state of complete physical, mental, and social well-being, and not merely the absence of disease or infirmity."
I found Katie's information valuable and applicable. You may learn some new things, that you never considered before. As an example, I learned something about bottled water, that I didn't know until our conversation. Do you drink enough water? Here's a great way to know. Divide your body weight by 2, the answer is how many ounces of water you should drink a day. Did you know that? She explains what GMO means and what the difference is between organic and Non-GMO. What are fad diets?
Katie shared her thoughts about environmental toxins. We also talked about healthy eating and how stress affects our wellness. Are you getting enough exercise and sleep?
Empowerment.
Empowerment is the process of becoming stronger and more confident, especially in controlling one's life and claiming one's rights. Katie shares her personal story about having breast cancer seven years ago. What did she learn about fighting this disease? Why is empowerment important? After she empowered herself, she set out on a journey to help others find their own empowerment. She has done a ton of research. I think all of us need to feel empowered and confident. Making that mind-body connection is a great start.
Coach.
A Coach can help you take a step towards better health. It's clear from listening to our show, that Katie has a passion to help and coach others. She mentioned her personal health journey including, "It's what we don't, know can hurt us." To that end, she will be sharing not only useful information but also ways that you can take control of your health and well being. You can subscribe to her Newsletter to receive healthful and helpful information. Thanks to today's technology, Katie can help you regardless of where you live. She can help you implement a plan that will work for you.
Are you ready to make some changes today? They don't have to start out as overwhelming, but maybe it's time to say goodbye to your favorite soda and add more filtered water to your day instead.
Final thoughts from the great stories she shared:
"I love that I teach what I needed to learn."
" Don't wait for "someday" to start enjoying your life, start today!"
---
What's Your Story?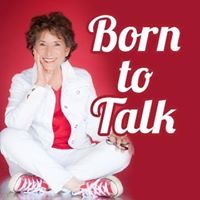 Conversations + Connections = Community
Do You have a Story to share? Contact me. Marsha@borntotalkradioshow.com